We are here for you
EURAXESS makes your move and daily life easier
node/105161
Welcome to the Faroe Islands
EURAXESS Faroe Islands is ready to assist you with information on practical issues when moving to and living in the Faroe Islands.
​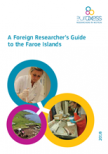 A Foreign Researcher´s Guide to the Faroe Islands with lots of practical information about everyday life and guidelines for dealing with the formalities of employment and work in the Faroe Islands is available here.
​
​​
intellectual property rights
​
Thank you and goodbye
We hope you had a fruitful and joyable stay in the Faroe Islands.
Before leaving the Faroe Islands there are some practical matters you need to address.